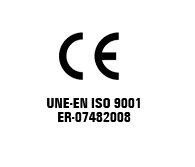 Certification ISO 9001-2000, certified by AENOR and CE mark. After ten years of research and testing at technological institutes (IPROCOR-CIDEMCO), ClimaTAC has established the ISO Norm 9001-2000, certified by AENOR and has obtained the CE Marking..
CE Marking guarantees quality control at the production stage, ensuring a constant level of quality in all products with this certification. According to the new Technical Building Code (CTE), CE marking will be compulsory in all products used in the construction of a house, from January 2009.
ClimaTAC brings out a new Clima/08 series of windows with all the improvements and up to date accessories. This series comes out after the latest testing to obtain CE marking..
The profile of the Clima/ 08 windows has become finer and more elegant whilst minimizing its weaker points. Amongst other important technical details of this new profile, we wish to highlight the removal of the drip-tray on the sash. One of the main problems faced by all windows is the drip-tray on the sash, as a risk during maintenance and a challenge in its manufacturing. With the new SIN-008 series, the drip-tray is removed and replaced by a hidden aluminium profile inlayed in the base of the frame.