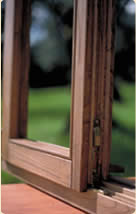 ClimaTAC® windows are the best option in order to comply with the requirements of the new Spanish Technical Building Code (Codigo Técnico de la Edificacion C.T.E.).
Wood by its nature shows the lowest thermal transmission values; furthermore, it is a biodegradable and recyclable. It is an excellent material for building due to its beauty, standing out as decorative element.
At ClimaTAC® we work for the protection of the environment using sustainable forest timbers, mainly local chestnut and Nordic pine.
Using laminated timber guarantees the stability of the profile, therefore avoiding the problems associated with traditional solid timbers, such as cracking and bending.

The advantages of using laminated lumber are further boosted with the use of high quality water-borne coatings, with low maintenance needs, and great resistance to weather agents, especially to UV sun rays. The coatings penetrate the wood, deeply protecting it and making maintenance very easy since it is not necessary to remove the initial coating before applying a new renovation layer.
The new generation hardware used in the manufacturing of ClimaTAC® windows makes them an excellent choice for all shorts of exterior joinery.